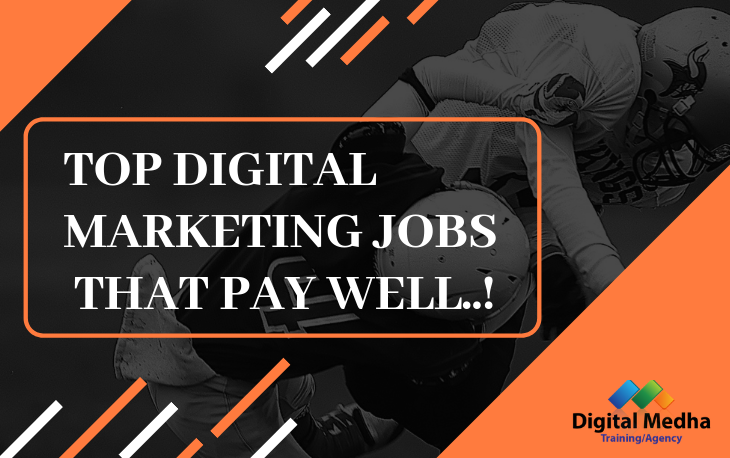 Top Digital Marketing Jobs that will pay well
Indian economy is going to reach $1 trillion by 2022 in Digitalisation. So Indian business is going to reach out of the prospective to the customers by online.
This is the time to focus on a digital marketing career. Plus, there are a number of digital marketing jobs that make digital marketing one of the most aspiring career options.
India's economy is rapidly increasing in digital field. By which there will be a huge demand for digital marketers who can help in creating brands awareness, drive traffic to their websites, generate leads, and increase in sales. More over the demand for digital marketers in India will reach 20 lakhs by the year of 2020.
Top Digital Marketing Jobs that will pay well:
We enlisted top paying jobs in Digital marketing career. While to get these job roles and pay scale you must have good experience in this arena.
1. Digital Planning:
Over time, Digital Marketing has specialized and upgraded a lot. We have Content writers, Graphic designers, Google Ads manager, Web analyst; who can choose their own specific roles.
At the same time, we need someone to lead the digital marketing team and execute a campaign from starting till the end. This is where digital planners come into the picture and play a vital role.
Digital planners have the technical marketing skills that they have gained through years of experience. They also have the ability to see the overall vision of a campaign and manage teams to make that vision a reality.
The responsibilities of a digital planner include establishing the vision, goals, and objectives of the project, creating the plan, maintaining timelines, and managing budgets. People who have excellent communication and organization skills can tend to prove them in this role.
2. Content Strategy:
Content marketing is one of the most powerful marketing techniques. Companies are realizing the importance of content marketers to create long-term and organic traffic for their website. This is where the role of a content writer to become critical.
In most cases, content strategists manage teams that create the content, although in some cases, they may have to create content themselves. Therefore, the ability to write creative, compelling copy is a must-have skill for a content strategist.
There are very less digital marketing jobs for freshers in content strategy. The best way to become a content strategist is to start your career as a content creator, it might be a content writer, copywriter, or video producer.
As you learn each and every corner of content creation and the principles of SEO, you can start your career as a content strategist. You can learn digital marketing course which helps you with the transition.
3. Product Marketing
A product marketing manager's responsible is to communicate about the value of the product customers. While this creates oversight of the product's digital marketing strategy, it includes responsibilities like training sales team on how to sell and how to create marketing materials.
Product marketing managers should have an overview of important marketing strategy. So in this competitive world, he must possess the knowledge how to market their products online.
The average salary for a product marketing manager is as high as Rs. 17 lakh per year. Product marketing manager is holistic digital marketing job.
4. Brand Marketing
In today's competitive market, it's not enough to communicate only about the features of your products to customers.
You need to create a brand identity that is most important than just the products that you sell. This brand identity helps to generate both awareness which helps a business sustain themselves in a long-run.
Today, brand building is all about narratives to communicate the brand story and creating awareness by digitalization. The average salary of a brand marketer is around Rs. 9.2 lakhs. Of course, for experienced people sky is limit. There are a number of digital marketing freelance jobs in this domain.
5. Digital Media Management
A digital media manager needs to manage overall digital marketing strategy of organization, with an emphasis on advertising. This includes managing a total number of channels like social, display, and retargeting. This is top most popular digital marketing job.
Digital media managers are tasked with several high-level responsibilities such as driving online sales, maximizing revenue, and building new sales opportunities.
The salary for an experienced digital media manager in India ranges from Rs. 4 lakh to Rs. 12 lakh per annum.